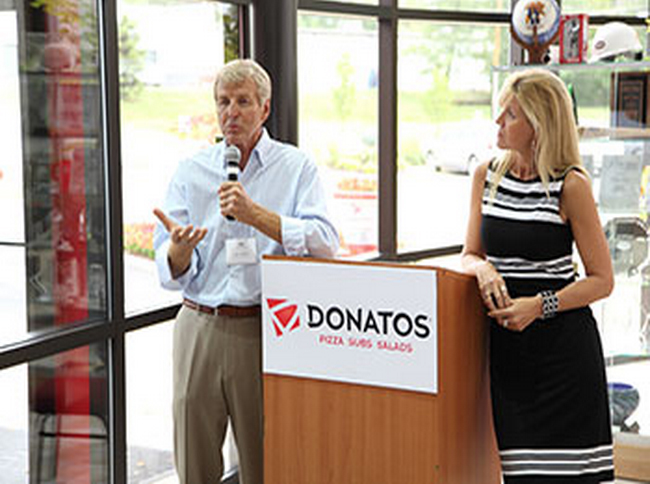 Founder Jim Grote and his daughter, Jane Grote Abell, tell family business leaders about the history of Donatos Pizza at one of our Family Business Tours.
Family Business Tours & NETWORKING
The Conway Center holds several events to facilitate interaction among members and develop deeper relationships among new and prospective members.
A favorite event is the Family Business Tour & Networking Event. The program, hosted by two family businesses each year, provides an insider's perspective into what has made the business successful, how it works, and its plans for the future.
Thank you to Oakland Nursery for hosting our networking event in May.  We look forward to touring another family business sometime soon.  Stay tuned for details!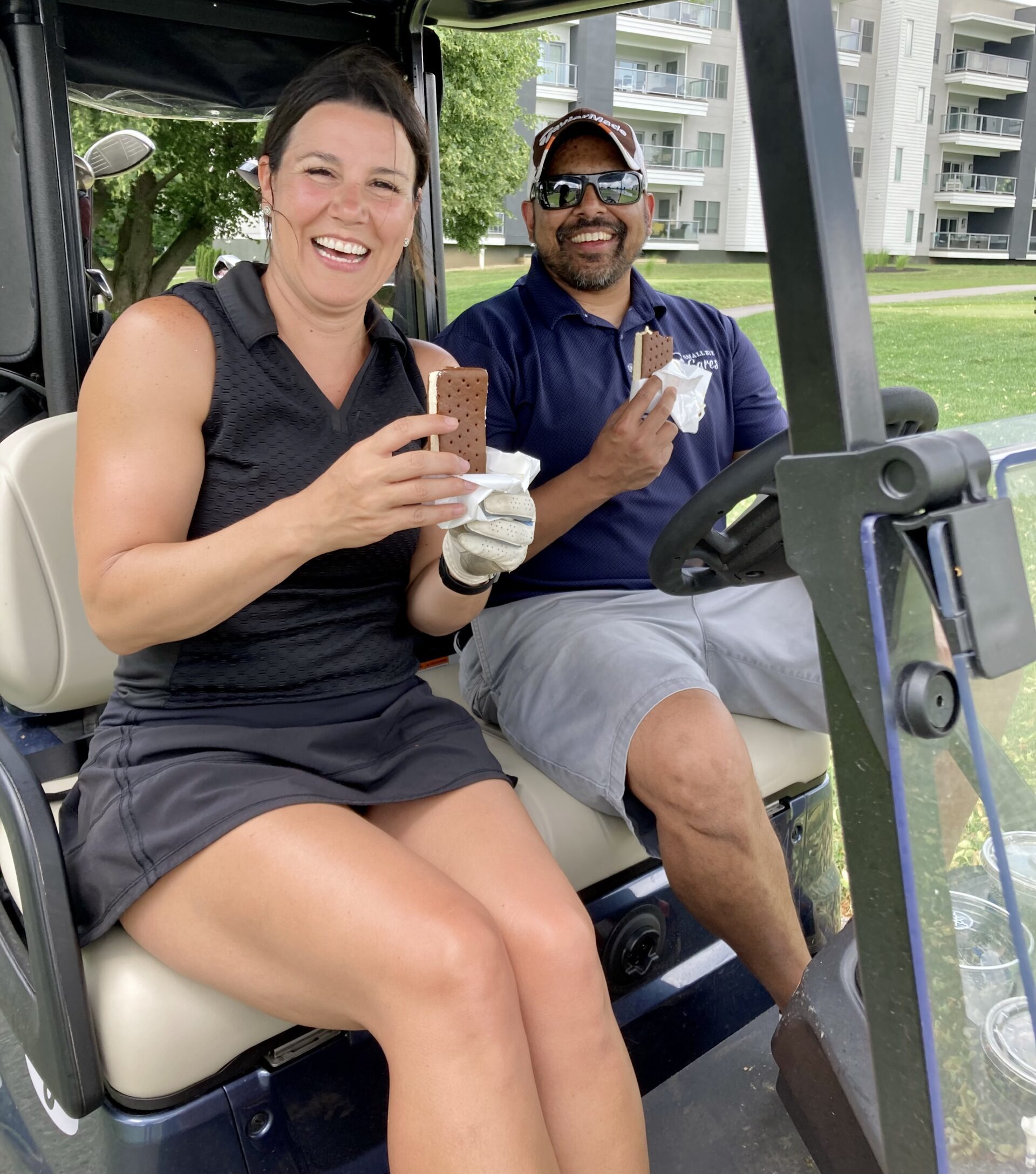 Kori Manus of Heartland Bank and Nevin Bansal of Outreach Promotional Solutions/Small Biz Cares enjoying their ice cream sandwiches from Velvet Ice Cream!
Golf Outing
The Conway Center for Family Business started hosting an annual golf outing in 2014. It's a fun day of golf and fundraising for the Center. Participants enjoy a golf scramble, boxed lunch on the course, followed by a casual dinner reception with raffles and prizes.
Our Golf Outing this year was at The Golf Club at Little Turtle on Monday, June 21, 2021. THANK YOU to all the players, sponsors, supporters, and volunteers.   We had a fantastic day with nearly 80 family business and service provider members playing together to raise funds for the Center!

A full list of upcoming social and networking events can be found on the Upcoming Events tab.
Events Calendar - CCFB Networking & Social Events
Join Julie for an intimate dinner, limited to 8 family members, and 1 service provider discussing random topics. The dates, locations, price points and times will vary each month, so you can find an evening that works best for you. All restaurants will be family-owned to stay within the Conway Center mission. Everyone is responsible for their own meal expenses. Registration is required.
...
read more
Categories: CCFB Networking & Social Events
This is a casual, after-hours networking gathering for Conway Center members actively involved in any peer group. Not yet involved in peer groups? Sign up for a peer group today! Generously sponsored by Windsor Advisory Group. Registration is required.
...
read more
Categories: CCFB Networking & Social Events